Watch the video of the hotel
3 STAR ROXY HOTEL IN PINARELLA DI CERVIA
Hotel facing the pine forest a few steps from the sea
The 3 star Roxy Hotel overlooks the pine forest of Pinarella di Cervia directly. Located in a quiet site, it is just a few minutes walk from the private beach and the center. The hotel, with its simple and bright rooms, offers an all-inclusive service: full board and beach service with an umbrella and two sunbeds included in the stay.
FULL BOARD AND PRIVATE BEACH
All Inclusive Holidays
The Roxy Hotel is located on the first line in Pinarella di Cervia. A few minutes walk  away is the private beach 'Le Lido' where an umbrella and two sunbeds per room in standard line are included in the price3 of the stay.
At the bar of the Hotel, throughout the day, the cafeteria, automatic dispensers of water, soft drinks and juices, house aperitifs and snacks. Always available .
All inclusive services
Free Wi-Fi in the room, reception and in the garden

Drinks with your meals when dining at the restaurant: bottled wine and mineral water; canned beer and soft drinks

Air conditioning in the room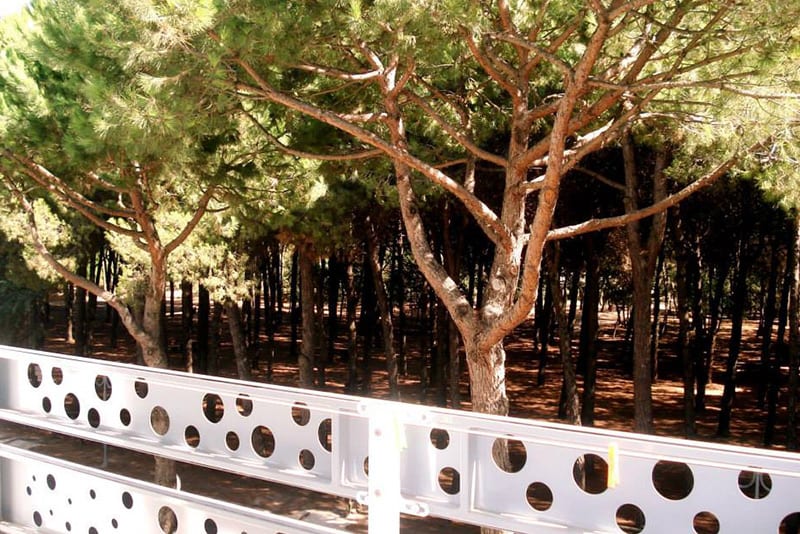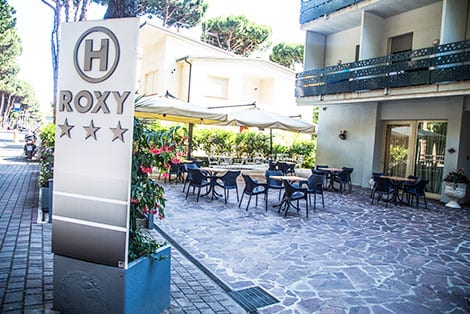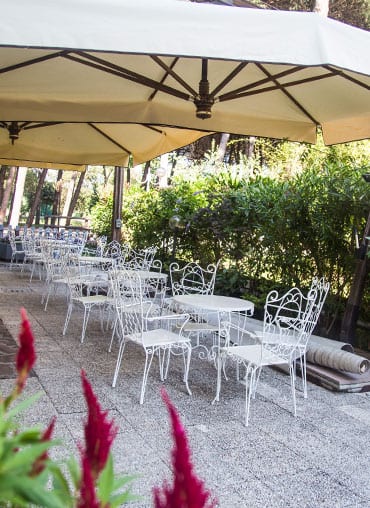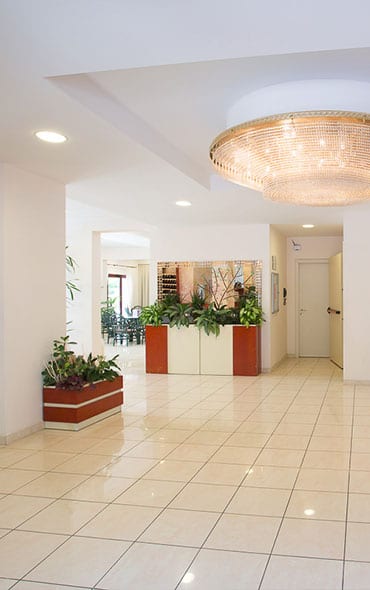 Restaurant
At the restaurant on the ground floor with a panoramic veranda overlooking the pine forest, you can enjoy:
Breakfast
Lunch and dinner, with first and second courses served at the table, vegetable buffet (*). Homemade pastry.
(*) covid standards permitting
Family holidays
The "Calimero" room is available for the younger guests of the Hotel, where our Nanny will take care of keeping them company at set times, with creative workshops and playful activities. The Mini-Club and Junior Club, daytime and evening entertainment both in the hotel and on the beach complete the offer for families.
Fantastici!!!

Abbiamo soggiornato due settimane tra luglio e agosto al Roxy. Possiamo solo dire che sicuramente ci torneremo nelle prossime vacanze. Cucina buonissima e abbondante. Dalla reception alla sala una cortesia e attenzione incredibile. Animatori fantastici con una gran cura per i bimbi. Rapporto qualità prezzo imbattibile. Insomma per le famiglie un posto perfetto
Vacanza top!

Abbiamo soggiornato al Roxy per 13 giorni. Alloggiavamo in una camera fronte pineta, confortevole, dotata di frigo a parete e nuovi arredi funzionali e comodi, sempre in ordine e pulita grazie al personale solerte e attento. La ristorazione ottima: buffet ricco, menù a scelta anche per i bimbi. Personale di sala garbato, competente e celere nel servizio.
Ci ha colpito il fatto che da quest'anno l'hotel abbia un'attenzione particolare all'ambiente attraverso l' eliminazione della plastica: l'acqua microfiltrata servita a tavola in bottiglie di vetro, un erogatore di bevande, succhi e the con annessi bicchieri di vetro sempre a disposizione dei clienti. Ricco open bar a disposizione tutto il giorno.
Il personale della reception cortese e sempre presente e al servizio del cliente per ogni necessità o informazione. Direi che un soggiorno al Roxy merita davvero
Oltre le aspettative! Davvero fantastico

Bella struttura, camere comode, ma ciò che distingue la vacanza è la simpatia, disponibilità e professionalità del personale tutto!Mille attenzione per noi ospiti, oggi mia figlia ha compiuto gli anni ed ha avuto a sorpresa una torta per lei e gli auguri dai camerieri e dagli animatori.si è commossa…. Quando la differenza la fanno le persone! Bellissima anche l'animazione sia per le proposte che per gli animatori, giovani dinamici entusiasti e mai invadenti. Una vacanza davvero bella bella!
Ottimo rapporto qualità prezzo

Struttura datata ma pulitissima e ben condotta dal personale molto gentile e premuroso; cibo di buona qualità. Adatto a famiglie con bambini; presente animazione e spiaggia (compresa) molto ben organizzata. Gradevoli le camere con vista pineta