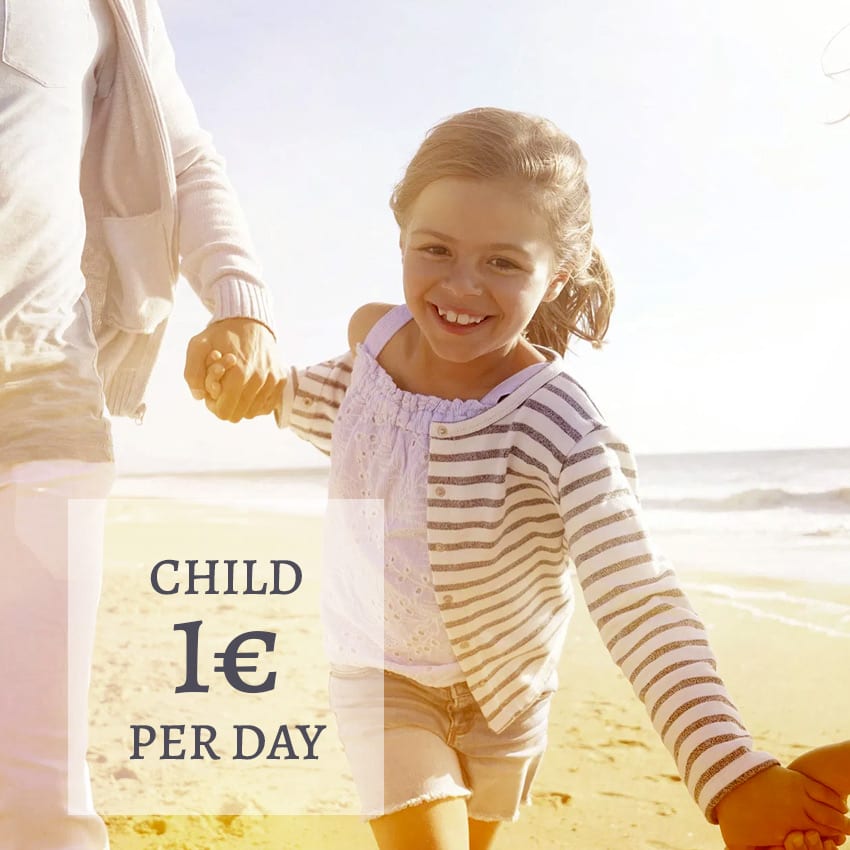 SPECIAL OFFER HOTEL ROXY
We are 3
for booking within 12 May 2021
Offer valid for 2 adults and 1 child / boy up to 18 years in the same room with double bed with addition of a third bed for 7 days in FULL BOARD All Inclusive formula, with arrival and departure on Saturday or Sunday.
Adult discount up to 25% on the list price, child 1 € per day per person
from € 595 per room

PARENTS DISCOUNT UP TO 25%
DO NOT LOSE YOUR DOWN PAYMENT
| 21/05 – 06/06 | 05/06 – 13/06 | 12/06 – 20/06 | 19/06 – 27/06 | 26/06 – 08/08 | 07/08 – 22/08 | 21/08 – 29/08 | 28/08 – 05/09 |
| --- | --- | --- | --- | --- | --- | --- | --- |
| €1.098 €595 | €1.098 €650 | €1.294 €728 | €1.392 €812 | €1.392 €852 | €1.666 €1.149 | €1.392 €762 | €1.098 €642 |
| 21/05 – 06/06 | 05/06 – 13/06 | 12/06 – 20/06 | 19/06 – 27/06 | 26/06 – 08/08 | 07/08 – 22/08 | 21/08 – 29/08 | 28/08 – 05/09 |
| --- | --- | --- | --- | --- | --- | --- | --- |
| €1.294 €682 | €1.294 €783 | €1.490 €848 | €1.607 €925 | €1.607 €1.029 | €1.823 €1.270 | €1.607 €902 | €1.294 €755 |
21/5 – 06/06
€1.098
€595
05/06 – 13/06
€1.098
€650
12/06 – 20/06
€1.294
€728
19/06 – 27/06
€1.392
€812
26/06 – 08/08
€1.392
€852
07/08 – 22/08
€1.666
€1.149
21/08 – 29/08
€1.392
€762
28/08 – 05/09
€1.098
€642
21/5 – 06/06
€1.294
€682
05/06 – 13/06
€1.294
€783
12/06 – 20/06
€1.490
€848
19/06 – 27/06
€1.607
€925
26/06 – 08/08
€1.607
€1.029
07/08 – 22/08
€1.823
€1.270
21/08 – 29/08
€1.607
€902
28/08 – 05/09
€1.294
€755
Prices are per room for 7 days in FULL BOARD All Inclusive.
Rates do not include the tourist tax, to be applied from May to September only for the first 7 consecutive nights (children under 14 are exempt)
The ALL INCLUSIVE formula full board includes:
Nella spiaggia privata
1 beach umbrella and 2 sunbeds come with each double or multiple room

Daytime entertainment staff and much more …
In hotel
Breakfast buffet. Lunch and dinner a buffet, with appetizers, first, second courses and homemade pastries.Drinks with meals included.

At the bar – (open from 07:30 to 23:30), automatic dispensers for water, soft drinks and juices (alcohol excluded)

Wi-Fi connection in the room, hall and in the garden

Use of minibar in the room (room Corallo and Topazio)

Unattended parking (subject to availability)

Bicycles and mountain bikes (at the "Bike Center" at the Hotel Garden at 200m)

Reception – open from 07.30 to 23.30

 

Our nanny in the children's room


Daytime and evening entertainment staff
Extra 5%
If you book 2 weeks ADDITIONAL 5% DISCOUNT on the price of the 7-day offer (excluding week from 07/08 to 29/08)
Do not lose your down payment
If you are unable to come, you will not lose the down payment, you can use it for stays at Severi Hotels in Pinarella di Cervia even in following years.